culled from:http://youqueen.com
Applying makeup for most women is like drawing on a slightly curved piece of paper. For dark skinned women, however, makeup can pose quite a challenge. Although it may seem that some makeup tricks are basically lost on you, don't give up – you just need to learn what works for you. Every girl should be able to use makeup as her favorite beauty ally.
Dark skinned women usually have plump lips, nicely toned skin and piercing eyes so there's a million ways to go to flaunt it all. Besides, makeup is playing, it's self-expression, it's fun – use intense colors, make bold choices, make it your own in every way!
Foundation
Because, for dark skinned women, getting an even skin tone is an absolute imperative, buying an adequate foundation may be the most important thing. Find the one that looks natural, even if it means mixing a few different foundations. Makeup artists recommend using a shade ever so slightly lighter than your own skin tone.
Try your best to apply it evenly. You may want to use a brush or a cosmetic sponge, for extra control, although many girls find it easiest to use their fingers to get it everywhere evenly and blend it out nicely. As the name itself says it's simply – foundation – it should be very light and not feel like you have a ton of it on your face.
Celeb Buzz on Foundation: New mom Beyoncé has NARS Sheer Mate Foundation in color New Orleans to thank for her flawless complexion. Might be a bit pricey but its fab!
Powder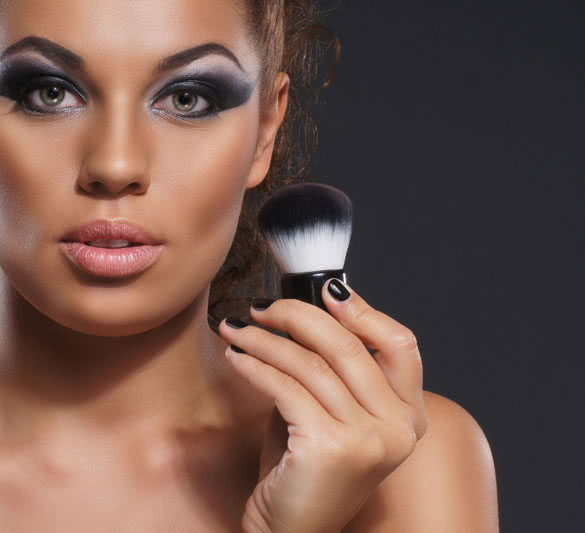 Dark skinned girls usually have a problem with oily skin. Yes, it's a huge bummer, but – there are a lot of products that can solve, or, at least, lessen this problem! When in need of a quick fix, try using some good old powder. It will give your skin an instant, fresh look. Be sure to pick a translucent powder without any yellowish, or any other similar remnants. Take time to choose, in some cases a quality powder can even replace foundation.
Celeb Buzz on Powder: You know what brand of powder Nicki Minaj likes the most? Well, it's M.A.C. Select Sheer Pressed Powder in NC40! And also, Nicki's no stranger to oily skin problems, but you wouldn't be able to tell would you?
Blush
It might seem exaggerated but dark skinned women can really benefit from using blush. Since in fair skinned women blush is so frequent, it usually seems kind of casual. When a dark skinned woman uses blush it automatically reads as elegant and stylish. Colors that work best are darker shades of red and orange.
The way you apply your blush determents what's accentuated on your face. Example: if you have high cheek bones put blush right on top of them, if you have fluffy cheeks and a rounder face shape suck in your cheeks and apply blush right in between your cheek line and your jaw line.
Celeb Buzz on Blush: Hot Latina J Lo likes using M.A.C. Powder Blush in Tenderling. To make it look like this girl does smile to find the apples of your cheeks and apply your blush to them, then, blend it softly up to the hairline for a natural flush.
Lips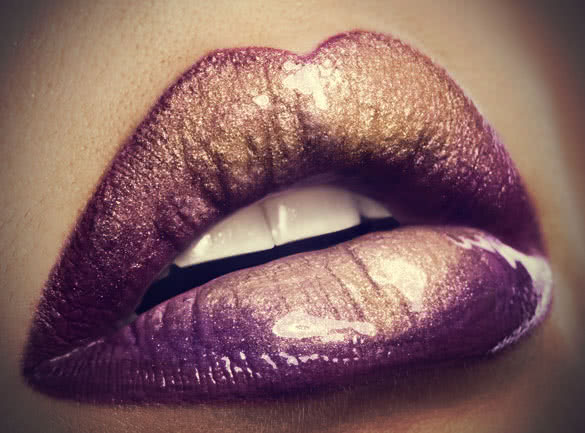 Although contrasting colors can be fun, using an extra light color of lipstick on your lips is a total no – no for dark skinned women. You will not look chic, more likely, you will look sick. Try to minimize the contrast by choosing colors like deep purple, wine, brown and, of course, the classic – red. No matter the color, transparent lip gloss will intensify the look and add sensibility to your lips.
Celeb Buzz on Lipstick: Until just recently Rihanna stirred up the scene with her fiery red hair and often – a nice red lipstick shade to match. Rihanna has an olive skin tone so she can pull it off like no one can! If you want to knowwhat her favorite brand is, its – yeah you guessed it – CoverGirl!
Eyes
Flaunt your eyes! If, in other cases, contrast was seen as slightly risky, but this is where it starts to get interesting. Your dark skin is actually a playground for different eye shadows. While on fair skin bold mixes can seem like too much, you have the luxury to experiment with deep colors.
You can easily pull off the bronze look with some shimmering eye shadow and colors like pumpkin, gold, or pink that will look great against your complexion. Make sure to use shiny eyeliner, maybe silver, which will look great and accentuate your lovely eyes. Also, black eye shadow and the smoky eyes look will look absolutely enticing on dark skin and eyes!
Celeb Buzz on Eye Shadow: Speaking off smoky eyes, Armenian beauty Kim K sure knows how to rock this look doesn't she? There are lots of YouTube tutorials showing you how you can pull it off too, don't be afraid to experiment!